MONTREAL SMALL BUSINESSES STILL HAVE FUNDING OPTIONS
October 15th 2020 at 10:19pm Published by sharpshooteradmin
The COVID-19 pandemic has hit small and medium‑sized enterprises hard, and their owners have demonstrated resilience and creativity in adapting their operations to health regulations and physical distancing requirements.
Montréal has not escaped the crisis. The effervescence of Montréal's neighbourhoods must be preserved and, to achieve this, the metropolis's commercial arteries need urgent support. The many calls for help to face the precarious situation merchants and businesses are experiencing have been heard. 
The City of Montreal says the measures it put in place to help small and medium-sized businesses (SMEs) stay afloat during the COVID-19 pandemic are working.
Plateau Mayor Luc Rabouin, who holds the economic development portfolio on city council, said in particular, the $3 million emergency fund that provides grants of up to $10,000 has been a success. The fund was created to help small business adapt to new pandemic regulations, maintain employees and improve their website offerings.
Rabouin also said to date, $32 million in emergency loans have been distributed to Montreal businesses. The loans are part of a $60 million envelope the province put in place for SMEs within the metropolis.
"So there's still money available," Rabouin said.
There is a six-month interest moratorium on the loans, after which businesses pay three per cent over a period of 36 months.
New funds for Montréal are a testament to the great economic solidarity that exists among the three levels of government. They have come together to offer additional support adapted to Montréal's small and medium-sized enterprises, as part of a project piloted by the PME MTL network.
A frontline partner to the metropolis's small and medium-sized enterprises since 2015, the PME MTL network is well acquainted with their reality. Composed of six non-profit organizations (NPOs), it serves Île de Montréal businesses by accompanying and financing them from the start-up phase through to the growth phase. A key player in the Montréal ecosystem, the network is already providing structural support to entrepreneurs hit hard by the COVID-19 crisis.
ARE YOU LOOKING FOR FUNDING FOR YOUR SMALL BUSINESS IN MONTREAL?
APPLY WORKING CAPITAL FUNDING WITH SHARPSHOOTER FUNDING
WORKING CAPITAL FUNDING IN MONTREAL
Small businesses often have unpredictable revenue, which makes it hard for them to meet the costs needed to run daily operations like payroll, debt, and rent. This is where working capital funding come in.
Working capital funding are an effective financial solution for healthy businesses with steady revenue. SharpShooter's working capital financing options provide speed, simplicity, and versatility to meet the funding needs of small businesses.
Our working capital financing options are ideal for business owners who need flexible, short-term funding without the hassle. When you attain a working capital funding from SharpShooter, the funds are automatically deposited into your business bank account. Your repayments will already be set up so that you can focus on running your company!
These small business funding are the perfect way to help maintain your small business and set it up for future success.
Apply for working capital financing in Montreal
What You Need to Know About Working Capital Funding in Montreal
Before deciding on the best business funding option for your small business, educate yourself on working capital funding and how your company can stand to benefit from it.
What Are Working Capital Funding?
Working capital funding are a short-term funding solution used to cover the short-term needs of a company. These funding can cover the costs of typical day to day operations or any necessary fees that a small business may need to cover during a temporary cash shortfall. The funding is calculated based on the total of a company's current assets (e.g. on hand cash), minus its liabilities.
According to The Balance Small Business, having enough working capital can mean the difference between failure and success. After all, small business owners rely entirely on working capital — it's the steady cash flow they need to meet everyday expenses and keep their business operations running smoothly. When that money is lean, it's impossible to sustain the most critical functions of a company. This may lead to a dangerous downward spiral and possible bad financial decisions that will hurt the business.
The payback terms of working capital funding typically do not exceed 12 months. These business funding allow business owners to quickly return to normal daily operations, pay off pressing liabilities, and keep focused on what they do best: running their company.
SharpShooter Funding provides small business funding during those lean times so that small business owners can still get their job done while staying away from long-term debt.
How Does Working Capital Funding Work?
Working capital short term funding is generally delivered in small amounts to be paid back over a relatively short period of time. Such funding is generally not suitable for major investments, such as buy-outs, infrastructure development, or other expenses that require a high capital outlay.
That said, this funding is ideal for smaller investments. This includes providing payroll bonuses, buying extra inventory, or re-positioning your business to take advantage of market changes.
In these cases, having financial flexibility can be the difference between making the most of an opportunity or missing out altogether.
What is the Difference Between Working Capital & Traditional Funding?
While a traditional funding provides a set amount of funding meant for a specific purpose, working capital-based funding acts more like a line of credit that you can use as necessary.
ARE YOU LOOKING FOR CANADIAN FUNDING?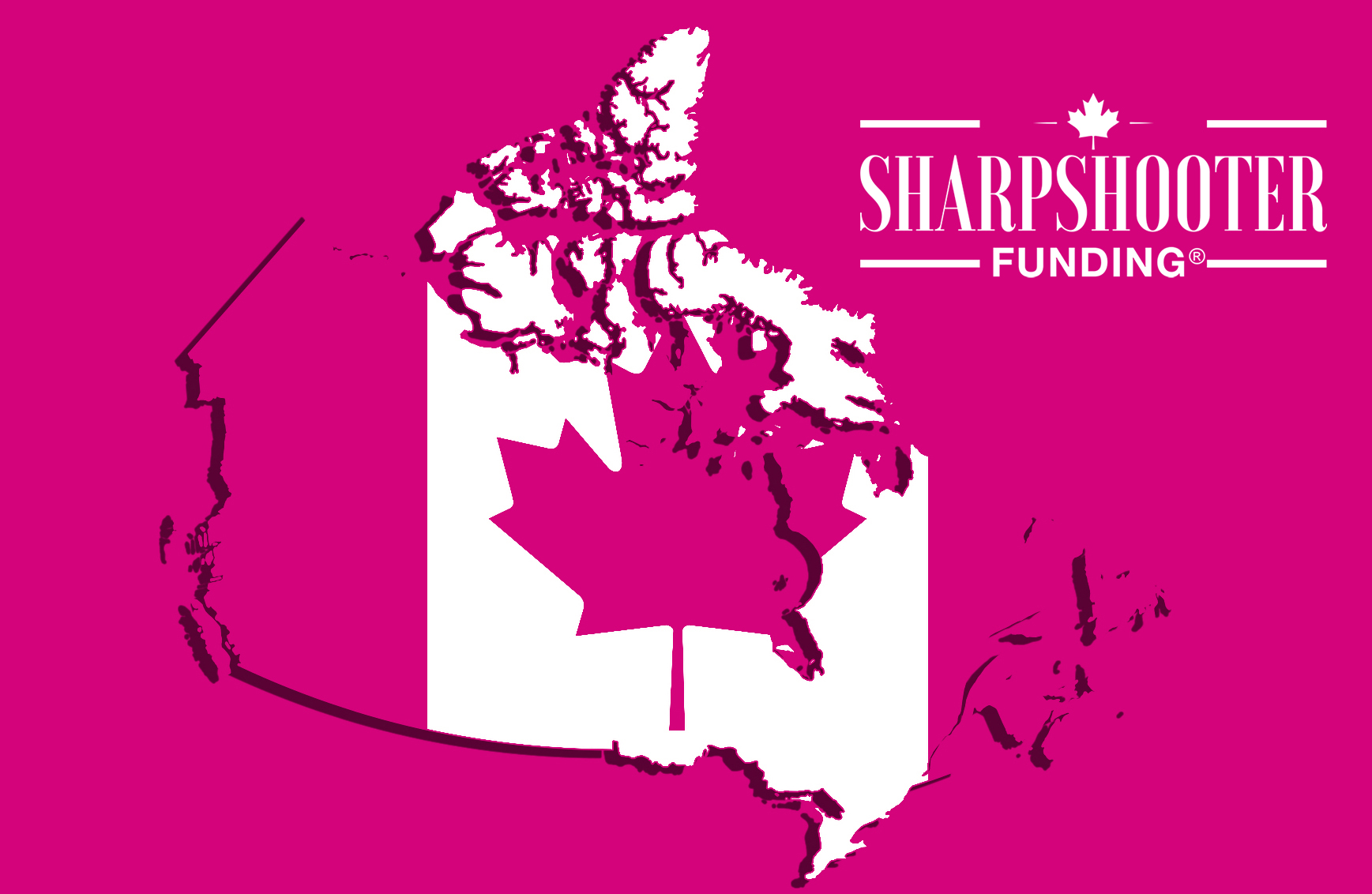 APPLY NOW FOR CANADIAN SMALL BUSINESS FUNDING
The Terms
| | |
| --- | --- |
| Max Funding Amount | Up to $300,000 |
| Term Length | 6 to 24 Months |
| Cost of Capital | N/A |
| Payment Structure | Recurring Weekly or Daily |

Qualifying Criteria for Sharpshooter Working Capital Funding in Montreal:
SharpShooter offers working capital funding to businesses throughout Canada that meet certain criteria:
500+ credit score
3+ months in business
$15,000+ average monthly bank deposits
The Benefits:
1. Flexibility to Act Quickly
When an opportunity comes along — to purchase some advertising, restock your inventory, or make a key move in the market — you need to seize it. If you don't, someone else certainly will. Working capital funds give you this flexibility.
By working with a Small Business Funder like SharpShooter, business owners can rest assured that their Funding will arrive in as little as a day of receiving credit approval. The infusion of working capital can be used immediately for business operations and can be paid off quickly.
2. Terms That Suit You
If you are going to be tied into difficult terms for the foreseeable future, you need to hire a professional. SharpShooter is staffed with funding experts who will work with you to get to know your business. We work to provide you with a short-term funding solution with repayment terms and streamlined processes that support and suit your business.
3. Supporting Long Term Growth
Unfortunately, when small businesses don't have adequate capital to draw upon, growth and expansion are simply not possible. Working capital fuels business growth and expansion, which is arguably the biggest factor in driving clients to seek out our short-term funding projects.
Working capital financing puts small businesses in a prime position to capitalize on time-sensitive opportunities like last-minute inventory discounts.

Why Choose SharpShooter: Experts in Small Business Funding
Sharpshooter has been Canadian small business's source for business funding since 2015. We are committed to supporting small Canadian businesses and the Canadians who run them. 100% of our focus is on seeing these businesses succeed and providing them with the financial solutions they require to achieve their goals.
Our strong values in integrity, innovation, respect, passion, support, and results make us the right choice for business funding in Canada. We leverage technology, data science partner relations, and customer support to help give business owners access to the capital solutions they require to attain success.
At SharpShooter, we provide business financing solutions that small businesses can count on.
SHARPSHOOTER 20/20 FUNDS
5 Reasons to Choose SharpShooter Funding for your Canadian Business Funding Needs
Securing Canadian small business funding for your business can feel like an uphill battle. With the major 5 big banks in Canada, you may jump through hoop after hoop with the hope of being approved, only to be rejected after weeks of waiting.
Enough of that. It's time you took back control of your business's financial future. Thankfully, you've got SharpShooter Funding on your side – we're the alternative business funder that makes it easier than ever to get the Canadian funding you need for your business. Here are five reasons to choose us over the other guys.
1
We make the Canadian application process quick and easy.
With a simple online form to complete, you can fill out our Canadian application in just minutes, using whatever device you happen to be on at the time. Just have some basic financial information about your Canadian business at the ready, and you'll be well on your way to getting your business funded in no time.
Most of the Canadian businesses we approve get access to their small business funding within 24-48 hours. That means you can apply for your funds in the morning, get approved in the afternoon and have the funds in your account the next business day.
2
We'll consider you for approval when the "Big 5" won't.
In the wake of both the COVID recession and the 2008 financial crisis, big banks have become extremely selective about who they're willing to approve for Small Business Funding. That means, unless your business fits into a very narrow description of what the big banks consider the "ideal client," your chances of being approved for business funding by them are low.
That's not the case with SharpShooter Funding. We're not restricted by the same funding criteria as the 5 big banks, so we can consider you for a business funding approval when they've let you down. We look at all areas of your business to determine whether we can fund your business, so your chances of approval are higher.
3
We offer customized Canadian funding approvals to fit your needs.
Forget the rigid terms and restrictions imposed on your business by big banks. Because of their structure, they only offer canned, one-size-fits-all funding solutions to all but the largest institutional businesses. The trouble with that is you don't operate a one-size-fits-all business.
You need a Canadian small business funder on your side, that offers you funding terms that meet your specific needs. We'll take the time to understand you, your business and your financial situation in order to develop funding terms that work for both sides.
Need a short-term, nine-month funding approval to purchase equipment and expand your business? We've got you covered. Or maybe you need something a little more long-term, to the tune of a couple years. We can make that happen, too. Whatever your business funding needs, we're confident we can find you a personalized solution that's tailored to your unique situation.
4
We treat you like a partner, not a transaction.
Every business is different, and we understand that. When you deal with SharpShooter Funding, we'll treat you like a business partner. Our professional staff will take the time to get to know you and your business, working with you to develop specialized solutions based on your actual needs. You're not just another number to us; you're a valued client who's working hard to build your business.
5
We've developed funding solutions across a wide variety of industries.
When it comes to Canadian funding needs, no two industries are alike, and we understand that. From restaurants to auto shops, construction companies to wholesalers, we've helped business owners across dozens of different industries secure the funding they need to meet their business needs. Our staff are friendly, knowledgeable and ready to speak your language.
The Bottom Line
Whether you're looking for funding to take advantage of a short-term opportunity, cover cash flow needs, expand your business, or something else entirely, SharpShooter Funding has a business funding solution that can meet your needs. Apply today or get in touch with us to have a conversation about how we can help get you the Canadian funds you need to focus on doing what you do best: growing your business.
Canadian Small Business Funding Calculation Examples
Example      $123,600 Funding Approved     32 Month Schedule/Turnaround (Term) (repaid weekly)
FUNDING APPROVAL EXAMPLE
$123,600
FUNDED AMOUNT
$122,400.05
TOTAL RECEIVABLES PURCHASED
$138,885.11
SCHEDULE / TURNAROUND (Term) (repaid weekly)
32 Months
Metric
Total Cost of Capital
$16,485.06
Metric Calculation
| | |
| --- | --- |
| Cost of Working Capital | $15,285.11 |
| Origination Fee | $1,199.95 |
| Other Fees: | $0 |
| Total cost of capital | $16,485.06 |
Metric Explanation
This is the total amount of interest and other fees for the Funding.
The amount does not include fees and other charges you can avoid, such as late payment fees and returned payment fees.
Annual Percentage Rate (APR)
9.65%
| | |
| --- | --- |
| Your Funding will have weekly payments of: | $1,001.58 |
| APR: | 9.65% |
This is the cost of the Funding – including total interest and other fees – expressed as a yearly cost of working capital. APR takes into account the amount and timing of working capital you receive, fees you pay, and the periodic payments you make.
While APR can be used for comparison purposes, it is not an cost of working capital and is not used to calculate your Cost of Working Capital.
Average Monthly Payment
$4,340.16
| | |
| --- | --- |
| Repayment Amount: | $138,885.11 |
| Terms (in months): | +32 months |
| Average Monthly Payment | $4,340.16 |
| Specific Monthly Schedule: | NA |
This is the average monthly repayment amount of the Funding, which does not include fees and other charges you can avoid, such as late payment fees and returned payment fees
The actual repayment frequency for the Funding will be weekly. This is an estimate for comparison purposes only.
Cents on the Dollar (excludes fees)
0.12¢
| | |
| --- | --- |
| Cost of Working Capital: | $15,285.11 |
| Funding Amount: | +$123,600 |
| Cents on the Dollar | 0.12¢ |
This is the total amount of interest paid per dollar borrowed. This amount is exclusive of fees
| | |
| --- | --- |
| Does prepayment of this Funding result in any new fees or charges? | No |
| Does prepayment of this Funding decrease the total interest or Funding Fees owed? | Yes |
SharpShooter 20/20 Funds – Case Studies: The Construction Industry
If you work in the construction industry, you know that the general contracting business is very different from traditional brick-and-mortar businesses. Most jobs pay out upon completion of the work, whether in terms of milestones during the process or in full at the very end of the job.
In the meantime, however, the contractor is usually forced to pay for expenses such as materials, insurance, equipment and payroll costs out of their own pocket. Cash flow is therefore king; in the world of construction, it's often not a question of whether a business needs funding, but where and when they're able to get it.
Many traditional Lending institutions will not Lend to businesses operating in the construction industry, citing any number of reasons:
Inconsistent revenues resulting from a cyclical business
Lack of a physical brick-and-mortar location
A lack of collateral to put up against a funding
Contractors are often bonded, which means the banks don't have first claim to assets should the business fail
Susceptible to market and economic downturns
And more
The extremely conservative Lending practices of most major banks leaves a gap in the market, and that gap is filled by alternative Lending institutions. Alternative funders aren't bound by the same rules and restrictions as big banks, so they're able to offer highly customized funding solutions that prioritize getting money into your account so you can keep your business going.
Here are two examples of how our funding solutions can help your construction business (*names and details have been changed to protect the identity of the clients; Privacy Policy).