Best Small Business Loans in Canada
Best Small Business Loans
in Canada
A guide to the Best Canadian Small Business Loans
If you're looking to start and run a business in Canada, you'll need money & funding provided by a Small Business Funder. But oftentimes, small business owners do not necessarily have the funding & Business Loan approvals readily available to pour into their business ventures.
That's where Small Business Loans provided by SharpShooter Funding come into the picture. By getting access to funds from a funder or lender in Canada, small business owners can get their businesses starting from the ground up, or can expand their current businesses to experience true growth & potential.
Read on to find out all you need to know about Small Business Loans in Canada.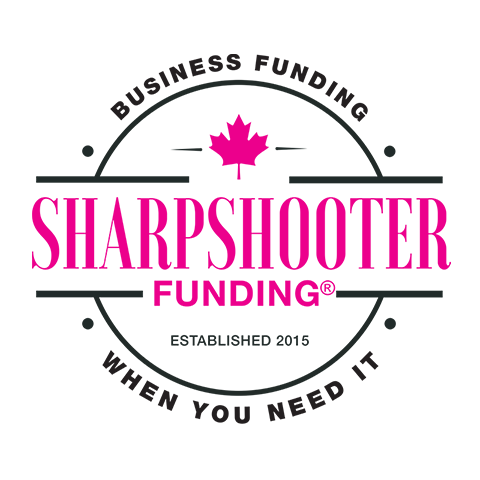 Small business loan benefits and challenges
Deciding how to finance your small business through a loan can be a challenging task for many entrepreneurs. There are many equity and debt funding options that can be used to get started, and all of them have pros and cons.
Consider the following list when deciding if a particular loan is right for you.
Small business loan benefits
Retaining equity
Your goal should always be to maintain as much equity as possible in your company. After all, it's your blood, sweat, and tears that will build it. A major perk of getting capital via a loan is you don't have to give away part of your company ownership, as is required with equity financing.
Autonomy
Small business loans generally allow you to call the shots. Your lender will ask what you plan on doing with the money. However, they won't always be concerned with the specific details of how the loan is being used.
Preferable terms
Small business loans tend to offer more preferable terms, like a lower interest rate and higher business credit limit. Other financing tools, such as credit cards, will often have high-interest rates and a lower credit limit, which can limit flexibility and long-term payoffs.
Small business loan challenges
Personal guarantee
If your company has a poor or limited financial history, a bank or government official may ask you to put a personal guarantee on your loan. This personal guarantee is collateral in the form of a car, real estate or other valuable assets you own. If you default on the loan, you may lose this asset.
Credit history
If your business credit history isn't in good standing, it could limit your available loan options. For example, you may not be eligible for preferable terms of the loan of your choice.
Higher debt-to-equity ratio
Having a small business loan means you'll have a higher amount of debt on your balance sheet, which will increase your debt-to-equity ratio. It's a measure of your company's financial leverage.
Economy impact
Getting a small business loan can be influenced by the state of the economy, which is something over which you don't have any control. So, if the economy is in a credit crisis, and there is a reduction in the availability of loans and credit, banks may be very cautious in lending to a small business owner. There's always a high risk associated with startups.
Get Pre Approved in Minutes!
How Do You Apply For a Small Business Loan in Canada?
In order to apply for a Small Business Loan in Canada, consider the following:
Look at your lender options. While you can always approach your bank or credit union for a Small Business Loan, there are many other lenders available in Canada. If you're turned down by one lender, try with another. If your credit score is standing in the way of getting a loan, consider either waiting to apply and take steps to increase your score, or consider alternative business lenders.
Here's how you can get a Small Business Loan with no credit check.
Come up with a business plan. You shouldn't go into a meeting with a lender without a plan in place for why you need a Small Business Loan and what you'll be spending the funds on. Having a solid business plan in place can increase your chances of getting approved. Without a plan, you probably won't even know how much money you truly need or how quickly you can pay it back.
Business plans usually contain things such as a few years of past and anticipated financial statements for your business, a statement of collateral an assessment of the market that your business serves, and a statement of your experience in the industry. Lenders in Canada will typically want to know that you will be using the money for and how it will improve your chances of being successful.
Get your personal credit history in order. If your business is new or is less than three years old, the lender will look at your personal credit history & credit report. Take some time to get your personal credit history in order before applying for a Small Business Loan. If there are any errors on your credit report, have them investigated and fixed.
Find out your credit score. Your credit score plays an important role in whether or not you can secure a Small Business Loan in Canada, as well as what interest rate you would be offered if you were approved. A score of at least 660 is considered healthy enough to get approved.
Look and Click Here to find out how funders & lenders set their cost of working capital for Small Business Loans.
What Types of Industries Can Small Business Loans Help With?
There are countless industries in Canada that would be well served by Small Business Loans, including:
This list can literally go on and on. If you're planning to start a business based on your passions or want to expand the business you currently run, a Small Business Loan may serve you well.
What Types of Business Loans & Financing Options are Available in Canada?
When it comes to business financing, there are several options for you to choose from depending on what you require the funds for and the industry that you serve. Consider the following options:
Interested in applying for any of these business financing options? If so, apply now.
How to Use a Small Business Loan in Canada
There are several different uses for a Small Business Loan in Canada, including the following:
Marketing – With all the competition out there in Canada, you'll likely need to advertise your business. Advertising can costs a lot of money, which you might not have readily available. A Small Business Loan can provide you with the funds needed to get the word out there about your company to help you experience real growth.
Upgrade equipment – Tools and equipment can become obsolete after a while, and in order to remain competitive, you may need to spend some money upgrading your equipment from time to time.
Hire new employees – Unless you're a solo entrepreneur, odds are you'll need to hire some help for your business, who not only need to be paid but also require payroll duties and tools to be managed.
Expanding the business – If you already have a successful business up and running, perhaps you have dreams of expanding and growing it. But in order to do that, you need money to spend on a bigger unit, hire more employees, buy more inventory, and so forth.
Move/upgrade locations – Whether you need a bigger space, are looking to change locations in Canada, or your current space is no longer working for you, money will be needed to make such a change.
Want to know more about Small Business Loans for equipment? Check this out for your business
Open a second location – If you're looking to grow your business, perhaps opening up another location is on the agenda. Again, such an endeavor requires working capital and a Small Business Loan from a direct funder or lender.
Expand your online retail store – If you're dabbling in e-commerce, you'll need money to host a website and hire the pros to keep it up to date.
Click here if you need help with both Good and Bad Credit that can help your small business grow.
This list is by no means exhaustive. There are seemingly endless ways that a Small Business Loan in Canada can serve you well.
Frequently Asked Questions
CAN I GET A SMALL BUSINESS LOAN USING MY PERSONAL CREDIT SCORE?
Yes, if you're a new business who hasn't yet built a business credit score, you can still get a Small Business Loan using your personal credit score. In fact, many lenders in Canada use both your personal credit score and business credit score when determining your creditworthiness.
CAN I USE A SMALL BUSINESS LOAN TO CONSOLIDATE DEBTS?
In general, yes, you can use a Small Business Loan to consolidate debts. In fact, you can use your Small Business Loan for any business expense such as marketing, equipment, payroll and more. However, many lenders in Canada require you to disclose why you need the loan. Depending on your rationale, your lender will either approve or reject your application.
WHAT CREDIT SCORE DO I NEED TO GET A SMALL BUSINESS LOAN?
The credit score required for a Small Business Loan depends on the lender you apply with. While banks often require a high credit score, many alternative lenders have a lower threshold. However, in general, the higher your personal and business credit score the higher your chances of being approved for a Small Business Loan.
Have more questions on how to obtain and get your small business approved for a business loan? Check out our FAQ Page here.
Need Financial Help to Start or Grow Your Business in Canada?
If you're looking to turn your passion or experience into a successful business or are looking to grow a company you're already running, a Small Business Loan in Canada can come in handy. If you've assessed your finances and determined where you need the borrowed funds to be allocated, get in touch with SharpShooter Funding to help you find the right Small Business Loan for you.
How to apply with SharpShooter Funding in Canada?
Step 1: Tell Us About Your Business
Fill out our online application by quickly entering basic information about your business and financing needs. Some of the business information that we ask for includes your monthly revenue and how long your business has been operating. By evaluating your business, we'll be able to review your company's objectives, sustainability, and how your borrowed funds will be allocated.
While other financial institutions require more than a personal guarantee or increase interest rates simply based on credit history, SharpShooter Funding evaluates every aspect of your business as part of the process. By having a clear picture of your business plan and aspirations, we can help you get the type of loan you need.
Step 2: Get Qualified and Approved
After you complete an online application, one of our expert advisors will contact you to get you qualified and approved for a loan. They will ask you some additional questions to collect the information they need to qualify you.
Some Canadian lenders will want to use your capital business assets as collateral or use a general lien. At SharpShooter Funding, we know healthy businesses that might not have adequate collateral can still make payments on borrowed capital.
Financial statements showing your business cash flow and your daily business transactions will support the financial condition of your business. By measuring your cash expenditures against your income, we can gain an understanding of how much cash you have available to service debt and make repayments.
Some financial institutions may also require the principal owners of the company to provide professional resumes. When you demonstrate past businesses or relationships with lenders, we can get a better idea of your leadership and lending reputation and the best type of loan for you.
Step 3: Receive your Funding
Once you've been approved for financing, you can expect to receive your funding in as little as 72 hours. Your funding will be deposited directly into your business bank account. You can use the funds right away to improve your cash flow, purchase additional inventory, make repairs and renovations, and more.
Are you eligible?
Canadian-based business
In operation for at least 24 months and generating revenues
Good credit history
You've reached the age of maturity in the province or territory where you live
Testimonials
Different types of Loans In Canada
Small Business Funding
Small business funding is exactly as it sounds — it is funding that is provided to a small business. In today's alternative funding market, businesses have plenty of options at their disposal when it comes to gaining extra capital for their operations. Many of these business owners are tired of approaching banks in search of funding, and of the high interest and low approval rates of mainstream lenders.
This is where an alternative option like the small business advance comes in. This funding option involves applying for a cash advance against your projected future earnings. The advance means you can leverage the benefits of these projected earnings sooner rather than later.
To qualify for this business funding, you will simply need to disclose your monthly receipts to show that you are able to repay the funding. The process is far quicker and more straightforward than other types of funding, and it does not require that you or your business have perfect credit.
Whether you have been in business for ten years or only ten months, you may still be able to access between $3,000 and $1.5 million, depending on the level of capital outlined in your monthly credit card receipts.
The nature of small business cash advances means that you can treat them like an ongoing credit facility. Provided that your credit card receipts keep on demonstrating your ability to repay the loan, you will be able to draw more from your advance. What's more, there are none of the delays or restrictions associated with gaining capital from a bank or another mainstream funder.
Retail Store Funding
Do you operate a retail outlet or business? Are you looking for a way to grow your business, or simply to keep your business operating as it should?
For this, you need capital. SharpShooter is the right choice to help you get the capital you need.
For many businesses, retail store funding is one of their most critical costs. There are many different factors at play, including:
Shifting supplier prices
Building upkeep or rental costs
Diversifying product ranges
Seasonal shopping fluxes
And more
What's more, when it comes to securing the capital, many mainstream funders simply cannot do the job. This is what makes SharpShooter Funding such a boost for so many companies across the US.
We provide up to $1.5 million worth of funding, with a repayment plan that is kind to your business and to your needs. What's more, you won't need collateral or a solid credit history as we provide a cash advance based on your credit card receipts.
Read on to find out more and shore up your business in the right way.
Beauty Business Funding
Your beauty business is the realization of a long-held dream. But, in order to fulfill that dream, you need capital. Perhaps you have a location in mind and a business plan for building your new venture, or perhaps you want to grow and expand an existing venture.
Whatever it is, the Funding Products from SharpShooter Funding give you what you need.
Service Business Funding
Starting a service business is a great way to pursue your dreams. This is because our society needs a wide range of services in order to function in the right way, making for a diverse and profitable market.
Of course, in order to access this market, you need to have the funding you need to get started. Fortunately, accessing this funding does not need to be a chore. Here at SharpShooter Funding, we provide a simple and straightforward approval system, as well as a tailored approach to support.
Approvals are provided quickly, and the funds are in your bank soon after this, so there's no hassle and very little waiting.
Business working capital
A business may be asset-rich or have a wealth of resources such as a highly trained workforce and great deals with suppliers. But, all this comes to nothing without a good level of working capital to back all of this up. This is just as true for the biggest corporations and for the smallest of SMEs — the fact of the matter is, a business cannot survive if there is not enough money available to handle day-to-day operations.
Restaurant Business Funding
It's not easy to get a restaurant business off the ground. In fact, even after this initial period, keeping the business going in the right way can be difficult and costly as equipment costs, staff salaries, licensing fees, and a range of other expenses begin to add up.
This is where SharpShooter Funding can provide all the difference. We make it simple and straightforward to access the funds you need in a way that suits you. What's more, you can use these funds for any purpose you desire. This includes:
Remodeling your restaurant
Moving into new premises
Hiring another chef
Advertising, marketing, and promoting your business
Expanding your capabilities
Adding new locations to your chain
Gaining the working capital needed to run your restaurant on the day to day
Any other investment in your restaurant
This is your restaurant business funding, so we make sure it works for you.
After you complete your application, you will receive a decision within about 48 hours, with the cash deposited in your bank account shortly after that. No waiting around, no anxiety — just swift and agile funding for your restaurant. No more long, anxious waits on decisions from mainstream lenders.
Healthcare Business Funding
Here at SharpShooter Funding, we offer a range of options that are designed to fit the various needs of healthcare businesses across Canada. You will get approved within two days if you are eligible and then receive your healthcare business funding shortly after that.
We will reach out to you and your medical business to learn more about what you need, and to introduce some of the most ideal funding products to you.
We also offer cash advances for medical businesses, alongside our unsecured funding products. This connects you with a simpler process of repayment and eliminates much of the worry and hassle that comes from repaying a mainstream funder. We will extract a small amount from the payments you receive from your clients, and this will be used to cover your repayment balance along with any fees. It's simple and straightforward.
Business Equipment Funding
Your business needs equipment — it's as simple as that. But this equipment costs money. Sometimes, when things are feeling a little tight, it may become difficult to put money to one side in order to buy the equipment you need.
Of course, business equipment funding is an option. But, all too often, it is an expensive and difficult option. Mainstream funding providers are just not tuned into the needs of modern businesses, so many operations end up losing out as a result.
At SharpShooter Funding, we do things a little differently. We make funding affordable and easy to access, ensuring that all businesses can gain the capital required to kit themselves out with equipment.
We are proud to support small and medium-sized businesses across Canada, and we look forward to helping you achieve your aims.
Hotel and Motel Funding
Wherever you go in Canada, there are hotels. These are the companies that keep Canada moving, its tourism industry thriving, and its businesses flexible and agile.
Of course, despite the importance of these hotels and motels, setting up this kind of business is not always easy. In fact, once the business is up and running, the costs can keep coming.
This is why funding for hotel and motel businesses is so crucial. And yet, sometimes, it is hard to come by.
At SharpShooter Funding, we have made it our mission to connect hotel and motel owners with the funding they need to really thrive in the market. Let's take a look at what these business owners — business owners just like you — can expect.
Commercial Truck Funding
For many businesses, a fleet of trucks is a necessity. These are the vehicles that help businesses to move their inventory and equipment from location to location, or that provide support and delivery to customers and clients across the country.
However, these commercial trucks are not cheap to purchase, nor are they cheap to maintain.
Do you need a dump truck, commercial van, or another vehicle to add to your logistics fleet? Well, this requires some investment.
What's more, if you've been rejected for commercial truck funding in the past, or if your credit history is not sufficient to help you get the capital you need, you may feel helpless.
In fact, you're not. You have an alternative — SharpShooter Funding.
Bad Credit Business Funding
Starting a business — or growing an existing business — is never an easy task. However, when you have bad credit, the odds really become stacked against you, simply because mainstream banks and funding providers will not offer you the help you need.
If your credit history is not the best, it can feel as if you have no place to turn to. But this is not the case. Bad credit business funding provides a way forward, and it may feel like a real light at the end of the tunnel for business owners who have been struggling with their credit history.
SharpShooter Funding is proud to be able to offer this kind of funding to the businesses that need it most. You won't need to wait around for funding to be approved as we deliver our responses within 48 hours in most cases. We also offer flexible repayment terms and a range of different funding packages that make it easier for you to get the funding you need.
Automotive Business Funding
For many businesses, heavy equipment is not a luxury but a necessity. However, this does not alter the fact that such equipment — especially equipment of the highest quality — is seriously expensive. If you are expanding your business, just starting out and looking to purchase a range of high-quality machines, or are replacing your outdated equipment, it can be a very costly process indeed.
This is where heavy equipment funding, like that offered by the team here at SharpShooter Funding, can make a difference for businesses who might otherwise be struggling. Read on to learn more about this funding and how to go about achieving the capital you need.
Heavy Equipment Business Funding
Many businesses use fleets of trucks or other vehicles to help them meet the needs of clients and customers. For these needs to be met effectively, a high level of funding is required.
SharpShooter Funding provides this capital, giving these businesses the opportunity to expand their fleets, to buy their first vehicles, or simply to keep older vehicles well maintained and ready for action.
Consider your company business plan and focus. Where does your fleet of vehicles fit into this plan, in both the long and short term? This knowledge will help you understand how much funding you need, and will help us to find you the perfect funding package for your needs.
Gas Station Business Funding
Gas stations keep our country moving. Without these handy amenities, it would be impossible to run businesses, to keep movement flowing between locations across the country, or even just to live our day-to-day lives with freedom and agility. This is why SharpShooter Funding is so committed to helping these businesses get the support and assistance they need.
If you own a gas station, you know all about the different costs and expenses that are associated with the endeavor. Growing the business, expanding into different areas, or even simply setting your business up in the first place all cost a serious amount of money.
What's more, opening a gas station is a little different to opening a retail store or another, more traditional, business. The funding considerations are more specific and particular, and many mainstream funders may be unable or unwilling to provide you with the funding you need.
SharpShooter Funding aims to make funding accessible to gas station businesses via a quick and easy process. We work closely with your business to understand precisely what you need and then deliver you a range of options designed to meet those needs. You then select the one that best suits you, and you will have the funding in your account within a few days.
It's as easy as that. We don't believe in hindering businesses or making life more difficult for them. Instead, we want to support US businesses, as well as the wider society and economy, by providing the funding that gas station enterprises need.
Read on to learn more or reach out to our team today. We are always happy to help you with any questions you may need answered.