TORONTO SMALL BUSINESSES RESPONSE TO COVID-19
October 13th 2020 at 8:51pm Published by sharpshooteradmin
It would be hard to imagine any Toronto neighbourhood strip without a popular, independent coffee shop or a favourite, small-batch bakery or a unique gift shop.
These small businesses give neighbourhoods personality and character but they also account for 60 per cent of all private-sector employment jobs (based on Statistics Canada figures from 2019).
According to the Canadian Federation of Independent Business, small businesses contribute half of Canada's GDP, employ over half of employed Canadians, and are the engine of communities.
Most businesses have suffered due to the impacts of COVID-19, but restaurants, bars, lounges, independent shoe and clothing stores, salons and barber shops have been the hardest hit.
A survey of hundreds of small businesses across the city has found that nearly two-thirds of them may have to close down for good within three months as they struggle to keep up with rent and other bills during the COVID-19 pandemic.
The survey, which was developed by the Broadview-Danforth Business Improvement Area (BIA), involved 561 small businesses. and 137 landlords.
It found that 17 per cent of businesses believe that they can only last for another month given their "current/expected revenue" while 21 per cent said that they could make it another two months and 23 per cent said that they could last for three months. Only about nine per cent of businesses said that they would survive regardless of how long orders forcing their closure remained in effect.
Nearly four of ten businesses (38 per cent) said that they wouldn't be able to pay any rent while 19 per cent said that they would only be able to pay about half of their rent and 10 per cent said that they could probably only pay a quarter of their rent. The percentage of businesses that felt they could pay their entire rent bill, meanwhile, was 28 per cent.
The percentage of landlords who don't expect to receive the entirety of their May rent, meanwhile, is 82 per cent. That includes 28 per cent of landlords who don't expect to receive any money whatsoever.
About one-third of landlords said that they don't have a mortgage. Of the ones that did, 34 per cent said that they wouldn't qualify for a mortgage deferral while 18 per cent said that they had not inquired. The remaining 17 per cent said that they would qualify. 
ARE YOU LOOKING FOR SMALL BUSINESS FUNDING?
We Can Design A Funding Program For Your Small Or Medium Size Business.
Canada to extend rent-relief program for small businesses
The Canada Emergency Commercial Rent Assistance Program offered loans to landlords of entrepreneurs worth half the tenant's rent from April through August, if tenants pay a quarter and the landlord absorbs the remaining quarter.
However, the program requires landlords to apply, which has prompted low uptake and left many tenants powerless to get relief as their landlords refuse to make applications.
Canada had also rolled out the Canada Emergency Response Benefit (CERB) to offer broad support to the millions of Canadians who lost their jobs amid coronavirus shutdowns.
The government put the CERB program in place because the traditional employment insurance (EI) system could not handle the rapid influx of new applicants as millions of people were laid off, or lost work hours, due to COVID-19.
Apply Now for Small Business Funding
Funding for Small Businesses
For entrepreneurs looking to start a business in Toronto there are over 60 business incubators and accelerators 
providing support for a range of sectors from digital media and healthcare, to food processing and retail. Business support programs are offered across the country and are tailored to specific industries, demographics, or special economic purposes.
Below you can find various financing options for small businesses in Toronto. 
What is Small Business Funding?
Small Business Funding help provide much needed cash flow to keep companies up and running. Funding provided to small businesses for various purposes by SharpShooter Funding. These funding may have less restrictive requirements, enabling the small business to secure the funds. A small Business Funding may provide other incentives for the borrower, which could minimize expenses for the business. The rate of small business owners looking for a funding might be on the decline, but they still borrow a lot: $600 billion each year.
Small Business Funding exist to help businesses succeed, but many times business owners get them for the wrong reasons, and problems they thought would be solved spiral out of control. … If your company is profitable and you have decent cash flow, but you need funds to expand, then a funding is a good idea.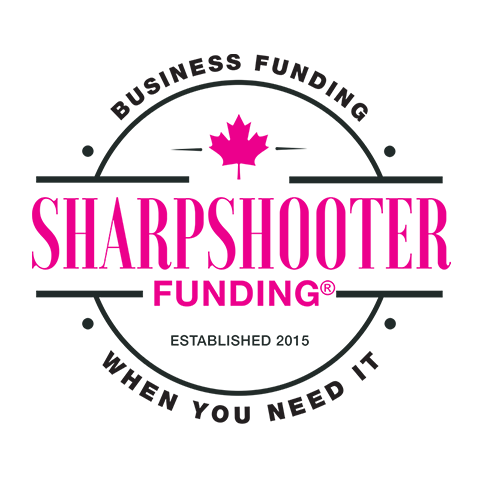 Determine your need for Small Business Funding
There are a few variables to consider when determining the right small Business Funding for your company. Think about whether a long-term or short-term funding option is best for your needs. If you just need funding to fulfill a large order or take advantage of a one-time opportunity, funding with shorter terms are probably best. If you need to purchase a piece of machinery that will last 20+ years, a long term funding is more cost effective.
Here are 5 reasons why your business might need a funding:
To Improve Terms on a Larger Funding.
Learn more about what your business qualifies for with SharpShooter Funding.
Which Business Funding type fits your needs?
Here is a breakdown of the types of Business Funding:
D&B DUNS Number

Calculate a desired small Business Funding payment
One of the most important things to determine before applying for Small Business Funding is how much you can afford to pay back on a monthly basis. Don't be too ambitious when making this calculation in order to avoid defaulting and causing damage to your credit history.
You should determine exactly how much your business needs to borrow to achieve its goals. This should be a precise figure, not a range. Funding companies want to see that you've done your research and that you will spend their money in a way that will help your business thrive. They want you to succeed so they're sure to get paid back.
Are you credit worthy of Small Business Funding
CHECK YOUR CREDIT HISTORY
To be considered creditworthy, borrowers must provide SharpShooter Funding with adequate financial information to prove their ability to payback the funding.
IDEAL CREDIT SCORE FOR A FUNDING
Borrowers should expect to have good credit to qualify for Business Funding. Funding partners build an assessment of the applicant's character by evaluating how they handled debt in the past.
CREDIT SCORES BROKEN DOWN
FICO Scores are comprised of payment history (35 percent), types of credit (10 percent), debt (30 percent), new credit (10 percent), and length of credit history (15 percent). The history reveals the borrower's ability to pay on time on their installment funding, credit cards, finance company accounts, and mortgages. Potential show stoppers include bankruptcies, excessive credit inquiries, liens, foreclosures, lawsuits, and judgements.
ARE YOU LOOKING FOR CANADIAN FUNDING?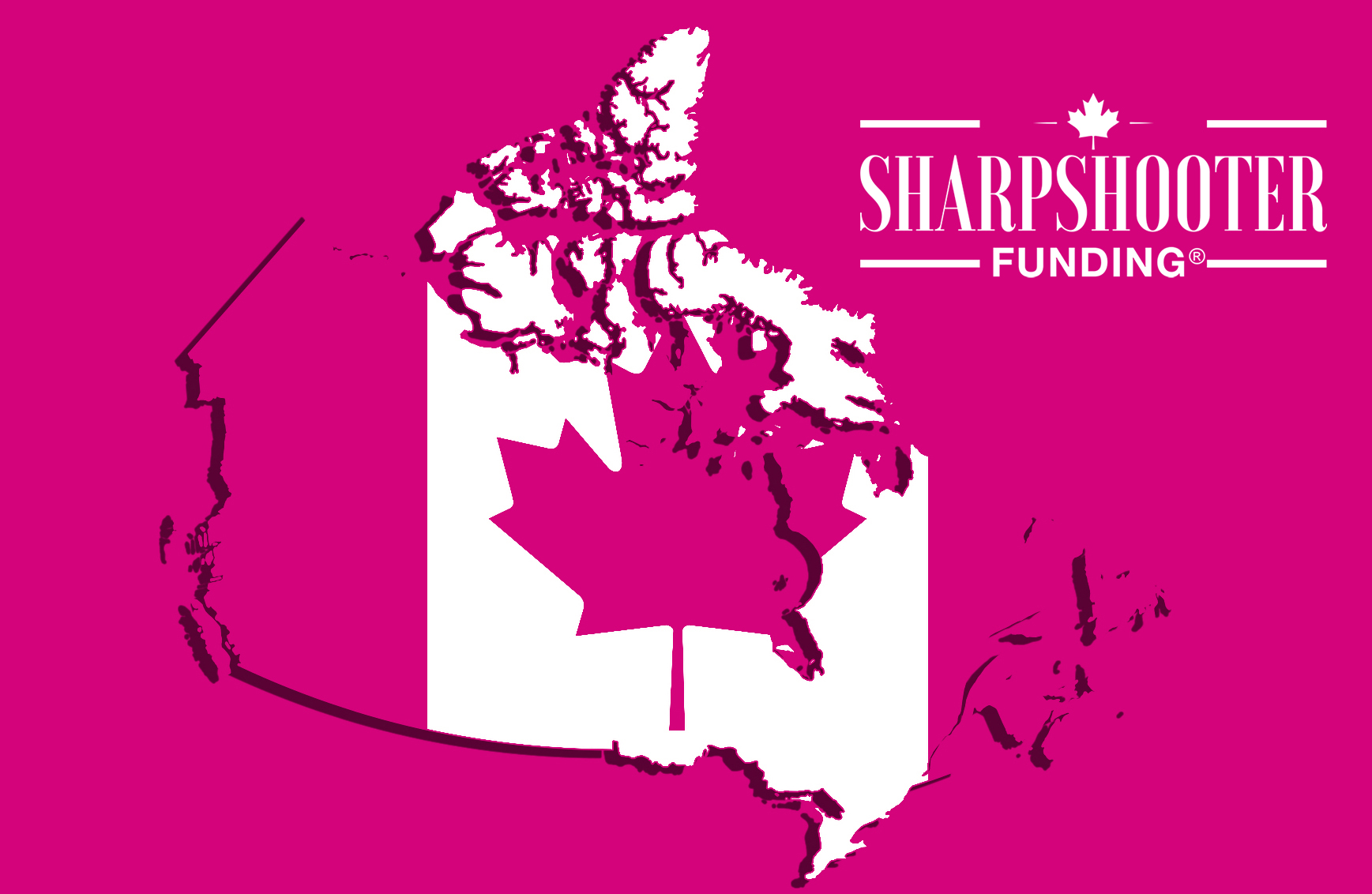 How to prepare for Small Business Funding:
Here are five steps to help you qualify for a small-Business Funding.
Build credit scores.
Know SharpShooter Funding qualifications and requirements.
Gather financial and legal documents.
Develop a strong business plan.
Provide collateral.
What SharpShooter Funding is looking for
FINANCIAL BACKING
The ability to pay back the funding based on collateral, financial reserves, and assets.
GOOD BUSINESS HISTORY
The borrower's successful past performance in business (for a new business)
CASH FLOW
The borrower's existing cash flow (for an existing business)
Small Business Funding Vs Big Banks
Small businesses and funding challenges go hand-in-hand. Businesses have always found it tricky to achieve the funding they need when they require it. However, due to recent developments in the banking sector, and increased caution in the market, many small to medium sized Canadian enterprises are finding it trickier than ever before to gain access to this capital.
Why is this?
Well, the simple fact is that many businesses are now unable to meet the stringent requirements of funding providers. For example, they may not be able to provide collateral to secure funding. Or they they may not be able to draw upon the record of previous transactions that a big bank requires.
This is leading businesses to search elsewhere for their funding. In turn, this has created a whole new funding ecosystem, offering alternative options to today's innovators and influencers.
The team here at SharpShooter are proud to be among the ecosystem. We believe in Canadian business, and we believe in giving these businesses what they need to succeed in the market.
This means working with businesses to get the funding they need, and not making them jump through hoops or bend over backwards in order to do so.
What is Alternative Business Funding?
Basically speaking, alternative business funding is any funding outside of that offered by the traditional big banks. These banks, as we have discussed, operate stringent requirements and inflexible payment terms, which often make them unsuitable for small businesses — or even put them completely out of reach.
This is because banks do not necessarily understand the needs of small businesses and are not able to meet these needs. Alternative funding providers, however, are able to work with businesses at a more in-depth level. They get to know what they require, and then work to make that happen. The process is a more intimate one, and the results are seriously effectively for businesses.
At SharpShooter, we are passionate about providing these alternatives and supporting the Canadian economy as it continues to develop.
What Advantages Does Alternative Business Funding Provide for Canadian Organizations?
Small and medium sized businesses are far more likely to seek alternative forms of funding than their larger or more established counterparts. This is because they stand to gain so much from the process, which is a fundamental factor of the benefit of these alternative sources.
Simply put, small business needs these alternatives, and so Canada needs them too.
Quicker approval times, easier application processes, higher likelihood of approval, more flexible payment terms, and better agility and capability for your business. All of these represent potential advantages provided by alternative funding.
It is easy to see why so many businesses are turning in this direction in search of the funding they need.
ARE YOU LOOKING FOR SMALL BUSINESS FUNDING?
Speak to one of our qualified and seasoned Small Business Funding Managers to better understand what funding options and approvals we have for your small business.
What are the Key Factors Behind these Advantages?
So, what exactly is driving these advantages? What exactly is it that makes these funding products so enticing for businesses and business owners? We are going to explore some of the most common factors below.
Higher Approvals: Approval rates are far higher than those offered by the big banks, ranging between 61% and 64% compared to between 13% and 20% for more traditional institutions
Faster Process: Approvals are delivered much more quickly and efficiently. At SharpShooter, we aim to approve application within 24 hours or less, compared to potentially months for the big banks.
Flexibility: Better flexibility of repayments and terms that are designed to suit the needs of smaller businesses. A far better option than the inflexibility and rigidity of the offerings from big banks
Streamlined Requirements: Low document requirements, as approvals are granted based on future projections and transactions values
More Funding Resources: A broader range of funding products, as our expert specialists work with you to understand precisely what you need, and then take the time to make recommendations based on this.
Now that you have learned a bit more about what makes alternative business funding such a viable option for small and medium sized businesses in Canada, it is time to find out what it can do for you and your business. Speak to our experts today, and we can assist you in your search for the ideal funding product, even helping you get to grips with future funding options that may benefit you further down the line.
Our application process takes online a couple of minutes, or even less. Hit the button below to get started.